1. CREASOFT - VMPro device - electronic interface through which electrical signals are taken over from product dispensers.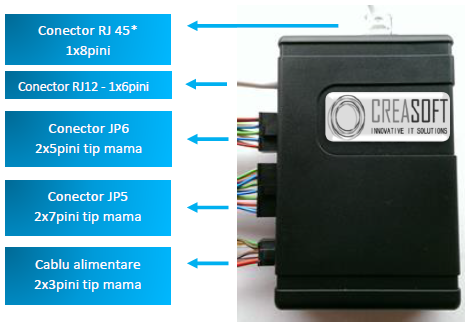 Rated input voltage: 14.2VDC/45mA (±5%)
Digital inputs activated by electrical grounding (GND signal) of the VMPro device:
DIN0 - dedicated input for button 1 - event registration of supply type of the machine with products
DIN1 - dedicated input for button 2 - event registration of cash pick-up type from the vending machine
DIN2- dedicated input for the connection of a magnetic Reed-type sensor for recording events of type Closed/Open door of a Vending Machine
2. Battery charger - ensures the charging of the battery with electricity and the supply of the entire chain of devices that are part of the monitoring system:
Minimum supply voltage of 20Vdc rms (rectified and optionally filtered).
Rated supply voltage 34Vdc (rectified and filtered) or 24Vdc rms (only rectified)
Maximum supply voltage 42.5Vdc (peak voltage).
The battery charger is equipped with an MDB connector for the telemetry supply to be made from the power source with which the automatic vending machine is equipped.
3. Optional devices:
| | |
| --- | --- |
| Set of buttons (keyboard) | for the recording of events such as cash withdrawal, supply of ingredients and loading of the change box |
| Magnetic sensor | warns the user when the door of the vending machine is open/closed |
| RFID reader | allows payments by RFID cards and recognition of persons who open the door of the vending machine |
| Buzzer | sensor module for burglary/theft/vandalism and sound alarm (buzzer). |
| Software module for reading EVA DTS file | reading of errors and analytical sales |
| Relay | for stopping/starting/restarting |
| Cashless payments module | allows payment for products by bank card, SMS, Wallet |
| Temperature sensor | to warn the user when the temperature exceeds the minimum / maximum configured threshold |
| Audit file query mode | audit module for older generation vending machines |
| Water pump protection module | for stopping the water pump at idle |
| GPS module | for precise location |