The portable timesheet device is the recommended electronic timesheet solution in what concerns office buildings, warehouses and factories!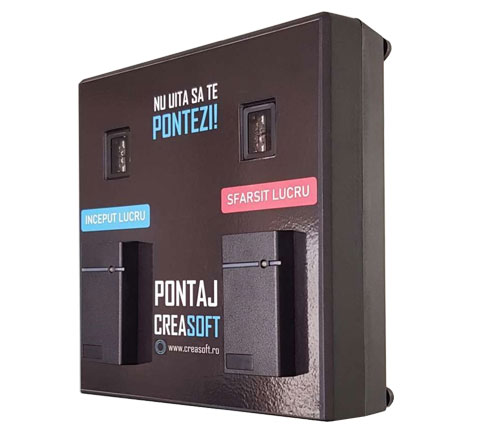 Timesheet with RFID card
Restricted, configurable access
Encrypted WiFi or GSM communication
Internal storage capacity for 6500 cards
Fingerprint timesheet (optional)
Based on digital signature
Approved transformation algorithm.
Does NOT store biometric data
The CREASOFT timesheet device, developed and produced in Romania, consists of an electronic equipment that can be used for timesheets of employees at work and can be provided with:
proximity RFID readers;
fingerprint reading sensors and fingerprint transformation into encrypted digital signatures sensors (optional, purchased separately);
digital keyboards for entering access codes (optional, purchased separately).
Any of the chosen solutions can also perform the secure access control function within the premises!
If the timesheet system with access card will raise questions related to possible issues related to theft, forgetting the card at home or borrowing RFID timecards, you can choose the option that includes a fingerprint reader!
It's so easy to sign electronically based on .... Your fingerprint!
But attention here: without collecting biometric data!
The fingerprint is transformed at the first touch of a finger by the fingerprint reader into an encrypted electronic signature, without thus storing any biometric data!
Unique on the Romanian market, the CREASOFT solution integrates, in compliance with the legislation in force, the electronic signature of the fingerprint and the professional electronic timesheet solution.
"A work time registration system provides workers with a particularly efficient means of accessing objective and reliable data on the actual duration of the work thus carried out, which facilitates both the proof by those workers of a violation of their rights, as well as control by the competent national authorities and courts of the effective observance of these aforementioned rights, and the Court of Justice of the European Union established, in its recent case law that Member States must oblige employers to use a system that allows for accurate measurement of employees' work time."
(Case file C-55/18 Federacion de Servicios de Comisiones Obreras (CCOO)/Deutsche Bank SAE from May 14th, 2019).